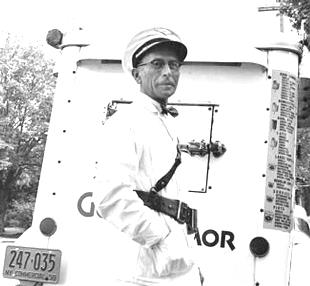 Good Humor man, identified only as "Don," os sjpwm om tjos ,od-1950's photo taken in Madison.
Posters on the Facebook page "You Know You're from Madison if..." identify the likely location as being at Hillview and Knollwood avenues. Borough residents also speak of another Good Humor Man named Steve who visited the Madison Community Pool daily. James Lagle. writing in the May 6, 1956, edition of the New York Times, points out that the Good Humor Ice Cream Co. began in Youngstown, Ohio, in the early 1920's and had more than 2000 truck vendors — or as Good Humor referred to them, "sales cars" — throughout the country in the mid 1950's. The Thomas J. Lipton Co. purchased Good Humor in 1961 and , in 1978, sold off the fleet of trucks that had been a major part of childhood for millions.
Milly writes: "Do you remember that everyday when we got out of school (Lum Avenue), we would buy something from Don. My favorite flavor was raspberry. I remember: orange/raspberry/chocolate - 10¢, creamcicle - 15¢; toasted almond - 20¢; banana split - 25¢.